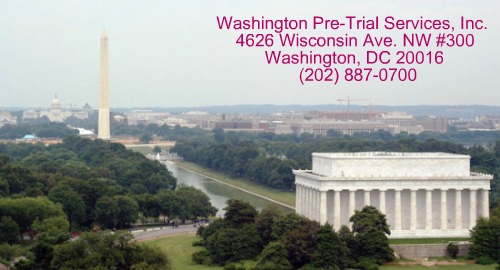 Welcome to the home of Washington Pre-Trial Services, Inc. Though based in the metropolitan DC area, Washington Pre-Trial Services, Inc. has been serving the legal community nationwide since 1994.
We are a boutique company which recognizes the importance of each assignment while providing an unparalleled level of customer service to each client. With our in-house database capabilities, we have the resources to track hard-to-find defendants and witnesses. Our client base consists of local, national, and international law firms for whom we provide individualized service. Additionally, we have a network of organizations nationwide in order to satisfy all of your process serving needs. We specialize in serving the US Attorney General, HUD, Federal National Mortgage Association (FNMA), Capital One Bank, Federal Home Loan Mortgage Corporation (Freddie Mac), and all government agencies.
Our team works hard to develop strong working relationships with all of our clients, and we look forward to assisting you with your process serving and investigative needs anywhere in the United States. If you would like to get in touch with us to set up a meeting, or if you have any questions about our services, call 202-887-0700. We look forward to working with you!